India, a country with a population of over 1.3 billion people, is one of the fastest-growing economies in the world. Despite this impressive economic growth, the country still faces a major challenge in terms of poverty alleviation and empowering its citizens. In recent years, the government and non-governmental organizations (NGOs) have taken various measures to address these issues, with varying levels of success. Here, we will delve into the challenges and opportunities for poverty alleviation and economic empowerment in India, as well as the role of NGOs in addressing these challenges.
Poverty alleviation and economic empowerment are complex challenges in India, and they are interrelated. India has a large population living in poverty, with nearly 21% of its citizens living below the poverty line. This poverty is widespread, affecting both urban and rural areas, and is exacerbated by a lack of access to basic necessities such as food, water, and healthcare. This reality underscores the need for continued efforts to alleviate poverty and empower the economy.
However, a major challenge faced is the lack of employment opportunities and low levels of income. Many Indians work in the informal sector, where they receive low wages and have limited job security. This has a significant impact on the economy, as it limits the purchasing power of a large portion of the population, and reduces the demand for goods and services. Also, there is a significant gender gap in India, where women are often paid less than men for similar work and have limited opportunities for economic empowerment. This exacerbates poverty, as women are often the primary caregivers for their families and bear the brunt of the poverty that affects their households.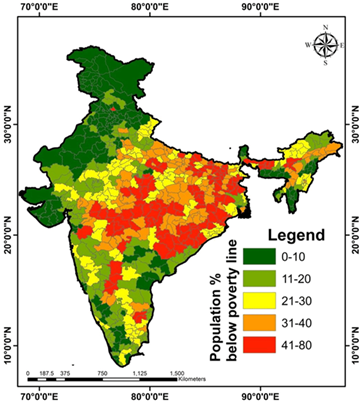 Despite these challenges, there are also many opportunities for poverty alleviation and economic empowerment in India. One of the most significant opportunities is access to healthcare is critical for poverty alleviation and economic empowerment in India. By providing individuals with access to basic health services, the government can help improve their quality of life and make them more productive. In addition, by investing in health infrastructure and training healthcare workers, the government can also stimulate economic growth and create jobs. Apart from this, if we look at the formal sector and the rate of its expansion, where workers have more job security and better pay. The Indian government has taken steps to encourage the growth of the formal sector, including providing tax incentives for companies that hire formal sector workers and providing training and support for workers entering the formal sector. The Indian government has also taken steps to promote financial inclusion, which includes providing access to financial services for all citizens, including those living in poverty. This includes initiatives such as the Jan Dhan Yojana, which provides access to bank accounts and insurance services for all citizens, and the Pradhan Mantri MUDRA Yojana, which provides loans to small businesses.
Apart from the government, the NGOs play a critical role in addressing the challenges of poverty alleviation and economic empowerment in India. They work at the grassroots level, providing essential services and support to those in need, and advocating for policy changes that will improve the lives of the poor. One of the most important ways that NGOs help is by providing access to education and skills training. This can help individuals enter the formal sector and increase their income, lifting themselves and their families out of poverty. NGOs also provide access to healthcare, which is essential for improving the overall health and well-being of individuals and communities. Supporting women's economic empowerment by providing access to financial services and resources, as well as advocating for equal pay and equal opportunities for women in the workplace is also an important factor. This is critical for reducing poverty and promoting economic growth, as women are often the primary caregivers for their families and play a key role in the economy.
Khwaahish is one of the NGOs trying to make a difference in the society by providing education and holistic development to children under its project NEEV: Education. This project has assisted more than 150 children gain access to quality education free of cost and access their Right to Education; giving them hope for a better future. Apart from education, Khwaahish has also introduced another project which contributes in alleviating poverty in the society. 'Project Sampoorna: Skill' is one such flagship program which is a vocational training program. This helps the underprivileged to be equipped with employable skills and get a chance for work as well as entrepreneurship. Helping children acquiring skills like cooking, stitching, henna design, computer operation etc.; this project hopes to change the lives of such individuals and put an end to child labour in the society.